Membership Management Software for Associations
---
Designed by associations to work the way you work.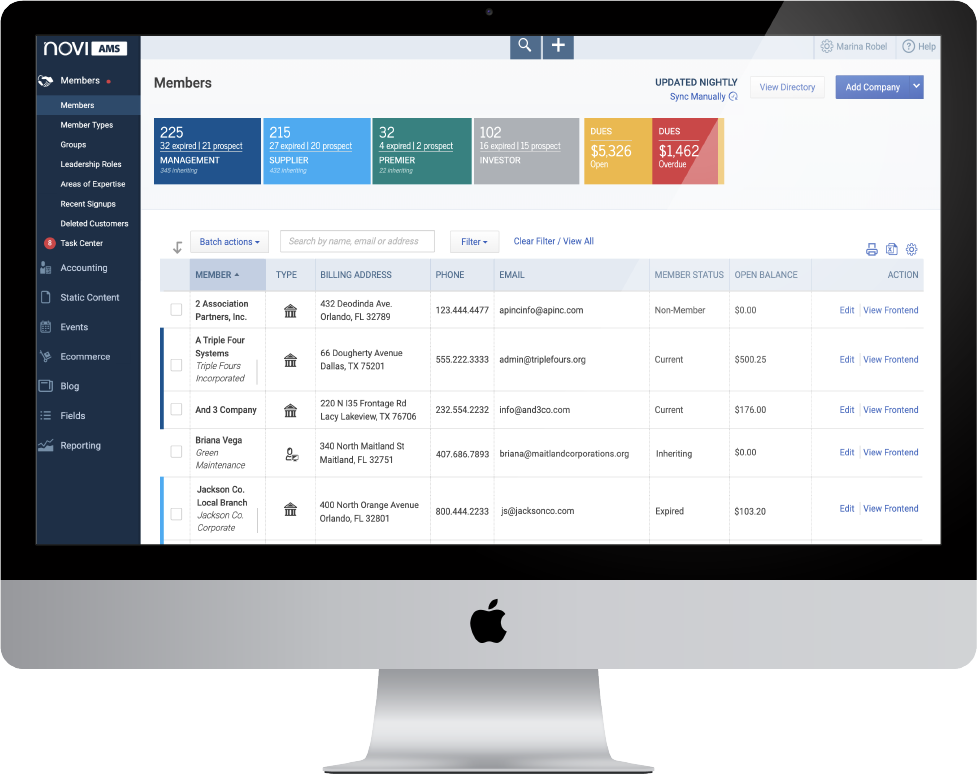 ---
Automation from Registration to Renewal
When a member signs up online, Novi instantly goes to work.
Added to the database
Added to QuickBooks
Dues calculated
Credit card processed or invoice created
Membership approval
Email added to appropriate email lists
Member profile added to the directory
Email confirmation sent
Accurate Records. Staff Time Saved.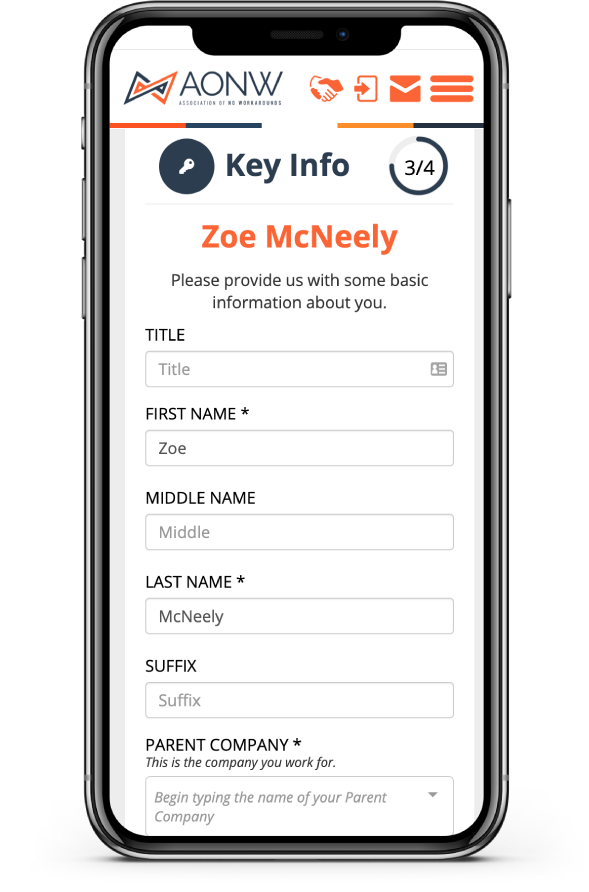 ---
Customizable Dues & Renewals
We've never met a dues rule that we haven't been able to accommodate. If you think your dues are too challenging, we'd love to hear from you.
Flexible Member Types
Whether your organization is company-based, individual, or a hybrid of the two, Novi's flexible member types will help you track who is entitled to membership.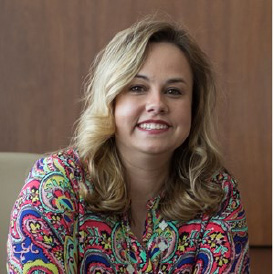 "Novi gives me everything I need in one place. I can run my association from anywhere."
Kelly McLendon, GPCA
Next Level Member Engagement
---
"Get involved." The first two words every membership director tells a new member.
Activity Timeline
Member records come with a full history of membership changes, job changes, event registrations, and Ecommerce purchases.
Track your staff's one-on-one interactions, including calls, tasks, and important notes.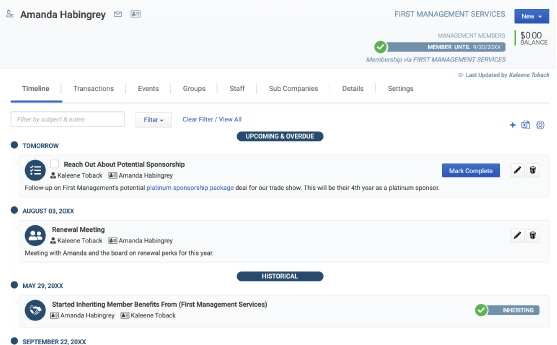 Task Center
Ditch the spreadsheets, emails, and sticky notes. Manage your team's member-related tasks from your member database.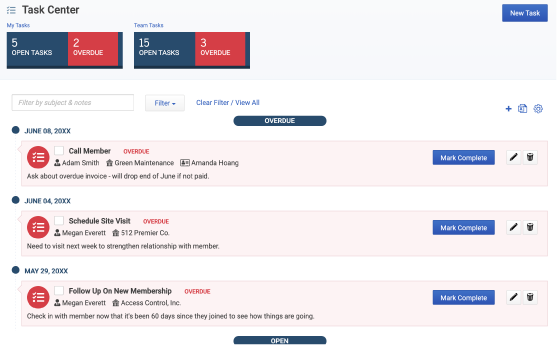 Directories
Facilitate member connections through an unlimited number of customizable directories.
Highlight people or organizations, and lock contact information down to the proper audience.
Drive non-dues revenue by showcasing sponsors with featured directory listings or selling targeted ad space.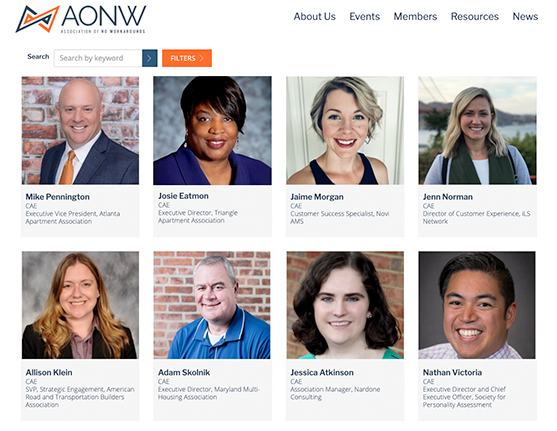 Membership Engagement Report
Know which members are engaged... and the ones that are just writing a dues check.
Make strategic decisions based on facts, not assumptions.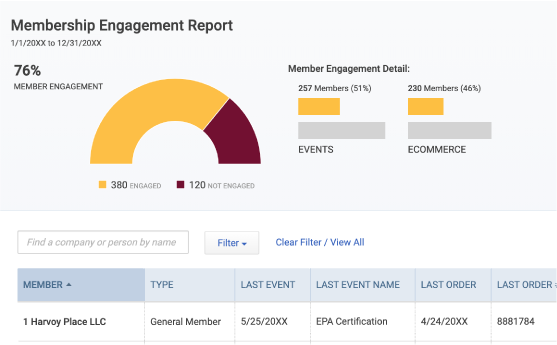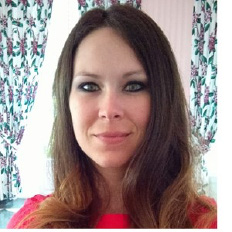 "Novi is data made easy. It creates a centralized location for data, rather than jumping around between various files."
Rachel James, TTA
Upgraded Member Experience
---
Remove friction for your members and allow them to manage their accounts 24/7, without the need to call staff.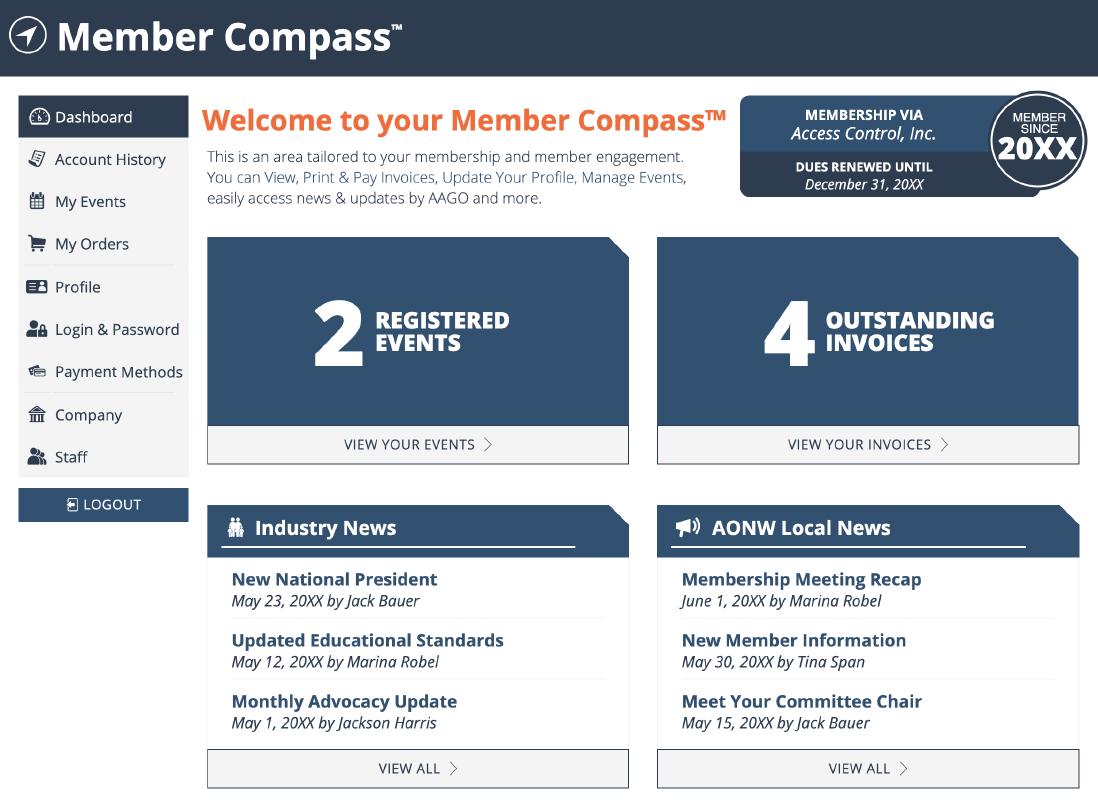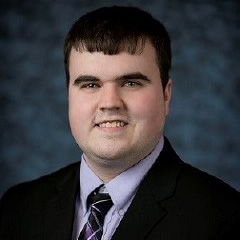 "Novi has made things a lot easier for our members, and now our processes are a lot simpler."
Dan Pauley, TAA
Tools for Keeping Your Data Clean
---
The best member database in the world is worthless if the data inside isn't reliable.
Duplicate Detection
Built for perfectionists, Novi's duplicate prevention and duplicate detection technologies work 24/7 to keep your data clean, organized, and duplicate-free.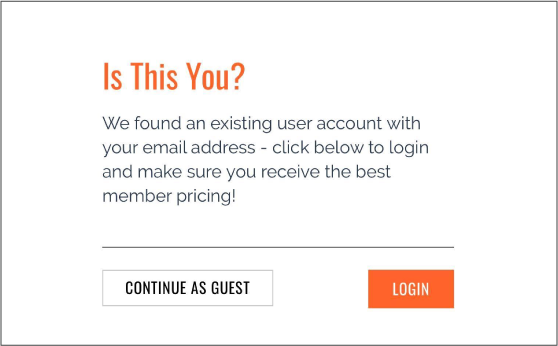 Guided Data Merge
When duplicate records do sneak in, our guided merge makes removing duplicates almost fun.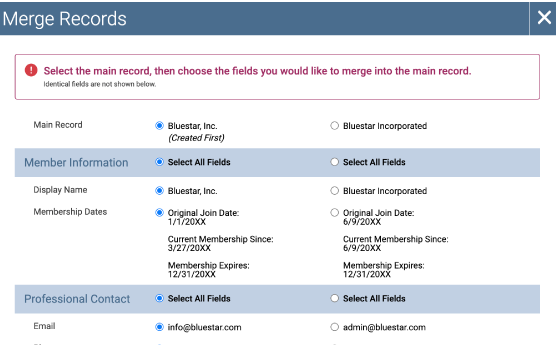 DataMaid
Every Novi subscription comes with our award-winning data cleanup tool.
Quickly clean address fields, identify duplicate records, or fix partial email addresses and phone numbers.