Organized and Customized.
Our proprietary process is organized and broken into digestible tasks that we'll work with you to complete so your team can get up and running without the headaches.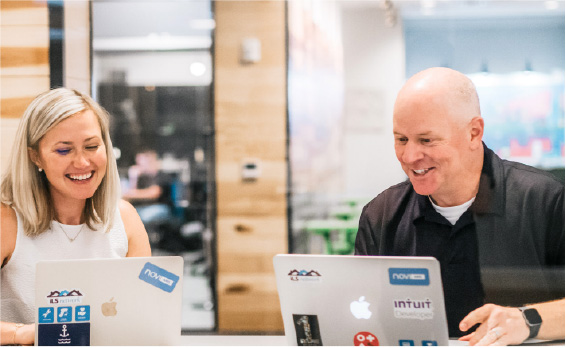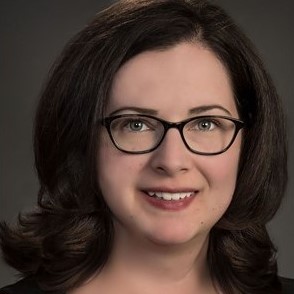 "By far the easiest onboarding of any AMS I've used."
Kathryn Stempler, NARI Atlanta
We're With You All the Way
During the kickoff call, you'll be introduced to your dedicated onboarding specialist who becomes a dynamic part of your team. From there, we'll start tackling some of the big tasks like migrating your website content, so that your team can focus on tasks that prep you to launch strong.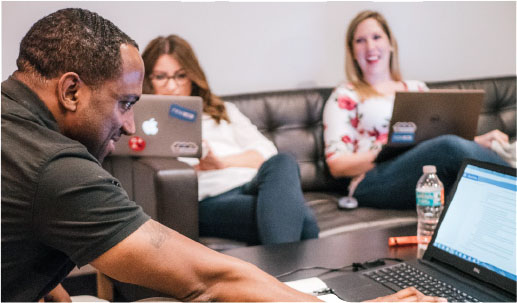 ---
90 Days to Launch
Onboarding takes on average, about 90 days to complete. If your timeline is shorter, we will work with your team to get you up and running more quickly.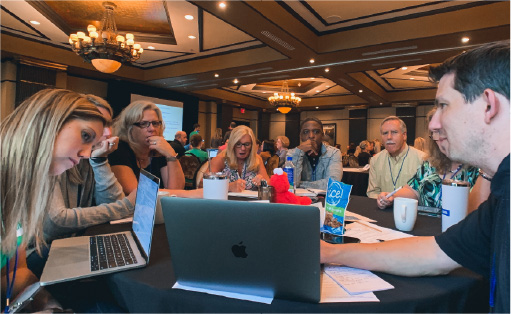 ---
Refined by Your Peers
Our onboarding process has been crafted with the help of experts – YOU! Our Novi community is intelligent, informative, and idea driven. Just like our software, our onboarding process is a product of customers that have walked in your shoes.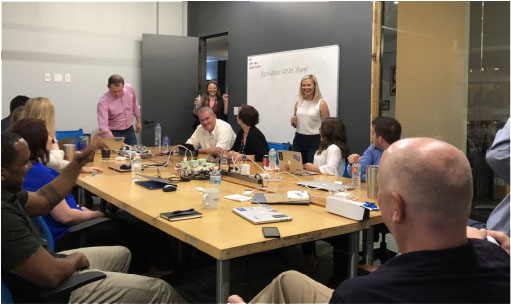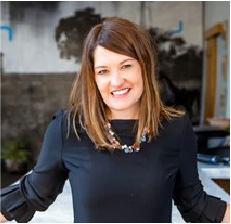 "The team made the onboarding process seamless. It doesn't feel overwhelming like other AMS products do."
Sarah Thorson, GRA
Six Milestones
When organizations switch to Novi, they don't leave. That's because we work alongside you to remain on task and on schedule as you to complete six milestones - from kickoff to launch.
Each of these steps is designed to be structured and organized so you're set up correctly the first time.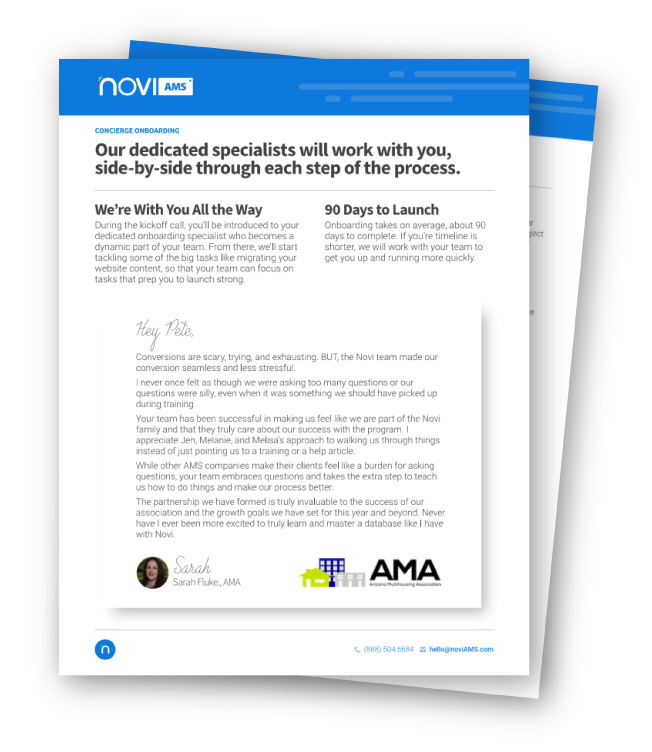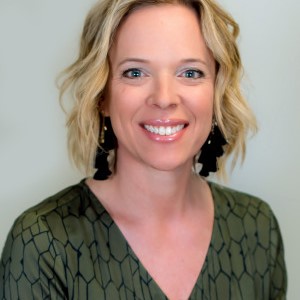 "Novi sets a high standard in many areas. Their stellar customer service has never slipped, and their responsiveness is exceptional."
Sloane Cerbana, WMFHA
Training That Empowers Your Team
---
With a mix of live training, help articles, and hands-on practice, you'll acquire skill, and gain back the time and talent of your team, to make an impact where it really matters - with your members.
Group
There's power in numbers. We've found that some of our most exciting training happens in groups. Regardless of your tenure with Novi, customers can get together and share ideas, offer tips and tricks, and have fun learning together.
1 on 1
Initially, you'll be paired with an onboarding specialist who will meet with you and your team one-on-one to orient you to our structured training and launch process so you're never left guessing.
24/7
Our always available knowledge base provides hundreds of resources - and counting - on topics ranging from basic "how-to" guides to best practices. We're just as invested in helping you grow as we are in helping you launch.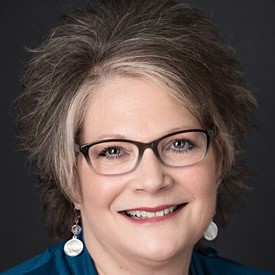 "We actually talk about Novi as if 'she' is a member of the team."
Jo Wise, GDAA
Continued Support After Launch
Our onboarding specialists spend part of their day working in our customer support, so the same people who work to get you live will continue to be there for you after launch.
Connect with Success
Still have questions? We'd love to learn a little bit more about your unique needs so that we can connect you with a member of the Novi AMS family who has recently walked in your shoes.