How One Chamber Led Its Community Through the Coronavirus Crisis
Date posted
March 18, 2020
How One Chamber Led Its Community Through the Coronavirus Crisis
The Coronavirus pandemic has created a need for organizations to quickly find ways to support their members' most basic needs. Many associations and chambers of commerce are uniquely suited to help bring people and organizations together (even at six feet apart).
Restaurants and other small businesses are hurting. Federal, state, and local governments have drastically changed the way that these places can do business, literally telling their customers to stay home.
As the voice for their business community, the Boone Chamber of Commerce knew that they needed to do something. Restaurants weren't closed - only their dining rooms were. Local residents wanted to find ways to support their favorite watering holes and retail stores, but they weren't quite sure how.
Bringing Community Together
President and CEO, David Jackson knew that his organization could be the bridge between local businesses, media outlets, and community leaders. He knew that these business owners were scared for their livelihoods and for the livelihoods of their employees. He also knew he needed to act fast.
The Boone Chamber has dedicated the home page of its website to displaying a consolidated list of ways that residents can support specific local businesses. This homepage 'takeover' lists restaurants offering takeout and/or delivery, and local stores offering curbside pickup and gift cards for sale, becoming a one-stop shop for their community.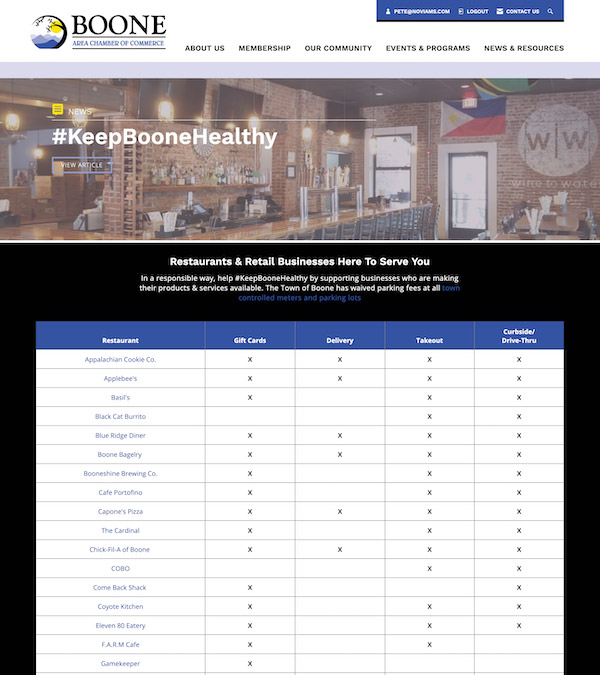 From Idea to Reality in Hours: A Template to Follow
The need to share access to important information about local business operations in this rapidly changing environment is here and now.
You can do the same.
Through a simple website feature and an easy to implement communication strategy, your organization can also be up and running putting the most important information in the hands of local consumers within hours, and not days or weeks.
Ready to implement? Let's get started.
1. Make It Easy
Local businesses should be able to easily submit information on their operating procedures. The Boone Area Chamber of Commerce created a four-question SurveyMonkey survey which they disseminated to membership, other business groups, via social media channels, and word of mouth. They also displayed this prominently on their website.
The survey includes
Business name
Business category
Shopping and ordering options available to customers
Website link to direct customers to more information
For businesses that may have more complex guidelines to changes in service, the Chamber has a landing page that provides links to those details in addition to other comprehensive resources.
2. Display Information Prominently
The Novi AMS team created an at-a-glance way for this information to be shared in an easily readable way. The homepage of the Boone Area Chamber of Commerce website is now nearly dedicated to presenting this information in real-time. A simple table was created where communities can visit the site, identify the business they would like to patronize, and discover the method of purchase that is available.
If a Boone city resident wants pizza, they can identify their restaurant of choice on the table and know if that restaurant is offering take-out and/or delivery options while social distancing recommendations remain in place.
3. Leverage Multichannel Communication Platforms
Do you have robust social media platforms with local influencers? Are you highly engaged with local news outlets? It's paramount that you engage with members, non-members, social audiences, and other news resources to share this resource. Member businesses can share resources with their audiences, and you can even create a press release to share with your local news affiliate.
4. Find Leaders in the Community
In Boone, the Appalachian State University football coach has shared pictures of himself visiting various local businesses to place carryout orders. These interactions are gaining loads of likes and shares and driving attention to local business and highlighting how they are open and functioning just in a slightly different way.
This can be a great way to encourage your local community to continue to support restaurants or other retail establishments by placing to-go orders. These Instagram worthy interactions can also benefit from a unifying hashtag to help tell the story and connect people with information. Boone chose #keepboonehealthy as theirs!
5. Consider Placement on your Website
The amount of restaurants and retailers you serve may warrant placing this content prominently, but elsewhere. Consider your options and method of display for content on your website (we can help!).
If you have thousands of businesses, a dedicated landing page may make more sense than a space on your home page. Either way, create a home for this information that is easily accessible and user-friendly.