Less Time Bookkeeping, More Time Serving Members
Date posted
September 11, 2020
Less Time Bookkeeping, More Time Serving Members
Messy accounting and an inadequate technology platform make for a weak association. As an association executive, nothing is more embarrassing than having the Board of Directors draw attention to these shortcomings, especially in strategic planning.
Rather than hide, Chip Tatum knew that it was important to address these issues head on - no matter how embarrassing the circumstances. As the Apartment Association of Greater Orlando's CEO, Chip had been fighting an uphill battle for too long. The Association's AMS didn't work well with QuickBooks, and as a result, their accounting was a disaster.
Transactions were often duplicated or found in the wrong account, costing AAGO's staff hundreds of hours a year in cleanup work. Worse yet, these accounting issues were impacting the members. AAGO's member invoices were often sent late and applied incorrectly, so members would frequently receive the unwelcome surprise of outdated, past due invoices. Due to inaccurate and late billing, the Association's accounts receivable ballooned and cash flow lagged.
As AAGO grew so did its accounting problems, causing Chip to spend hours of his valuable time reviewing and correcting errors in the financial reporting. With annual audits taking a week on average, the team was feeling defeated and overwhelmed.
"It's very intimidating not having 100% confidence in your financials. We finally got to a peak frustration point, and we knew we had to make a change."
Chip Tatum, AAGO CEO
Enter the Novi AMS 2-Way, 24-7 QuickBooks Sync
Fed up with workarounds and wasted time, AAGO partnered with Novi AMS to develop an association management system unlike any other – one built by associations for associations. Considering their current and past challenges, AAGO knew there had to be a simpler, cleaner way to record and process transactions.
Before switching to Novi AMS, AAGO was using a one-way, error-prone QuickBooks data dump, and it simply wasn't working like they needed it to. To eliminate this issue, Novi AMS constructed a two-way continuous sync with QuickBooks Online, an error-free accounting tool that seamlessly syncs records in the background around the clock.
"We knew right away this was going to be a lifesaver."
"The QuickBooks Online sync is wonderful; we can update any record or post any transaction in Novi AMS and it immediately appears in QuickBooks Online. The fact that Novi AMS' interface matches the QuickBooks Online interface makes the experience really intuitive."
Does accounting manage you?
One of our QuickBooks Certified ProAdvisors™ might be able to help.
Even the Most Skeptical Bookkeeper Trusts Novi AMS
Despite initial hesitations, AAGO's bookkeeping manager, Dominica Hurst, soon fell in love with Novi AMS' two-way sync.
"After we moved to Novi AMS, for the first two months, I double checked every transaction and sync. Because I was so scarred by our old AMS duplicating transactions, messing up classifications and having sync problems, I felt compelled to double check everything. But I soon realized Novi AMS' sync was awesome."
The dreaded audit process soon became a breeze. The AAGO team knew they had made it when their auditors were impressed by the quick turnaround. Before switching to Novi, audits would take a week to complete. Now they're done in a day, making the records more accurate and the overall process 80% faster.
Creating Change and Amplifying the Mission
The amount of time saved by switching to Novi AMS has been instrumental in AAGO's ability to fulfill its mission and create change. "Every minute you spend on the back of the house stuff is less time you can spend with your members."
"Having Novi AMS is like suddenly having an extra staff member."
Beyond accounting improvements, Novi AMS has had major impacts on all areas of the Association's reach. AAGO's VP of Member Relations is now spending far less time on manual membership registrations and renewals, allowing her to spend more time with the members.
Before switching to Novi, only about 60 of AAGO's member representatives would renew their memberships or pay for events online. Now, over 1,000 members administer their own accounts, relieving this responsibility from AAGO's staff.
AAGO's Programs Manager no longer has to dedicate hours of her time manually entering event registrations and invoices, because members can now easily register themselves and their teams.
"Novi has really been a game changer for us. It freed up so much administrative time across my staff that it has really enabled us to focus on our mission and create change."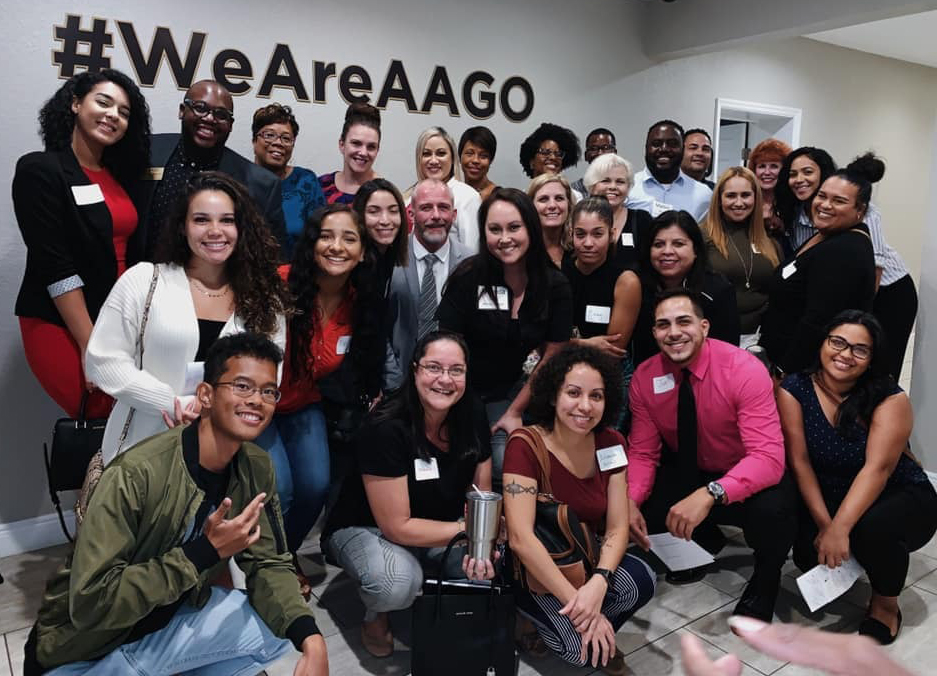 Dramatic Improvements in A/R and Cash Flow
With members managing their accounts and paying online, AAGO's A/R experienced a significant decrease and cash flow vastly improved. AAGO no longer has to spend time tracking down past invoices, which was an unexpected but welcome Novi AMS benefit.
"Novi has some really cool features that help us manage our A/R. For example, if one of our members' accounts is significantly past due, Novi can automatically prevent them from registering for upcoming events until their past due balance is paid."
A Team that Responds to Customer Feedback
"Having used many other systems in the past, I can tell you that it's almost unheard of for a software company to make its developers available to talk to customers and consider their feedback. But Novi consistently does that. They truly respond to their customers and make improvements based on their requests."
Chip Tatum is the Executive Director of the Apartment Associations of Greater Orlando. The Apartment Association of Greater Orlando (AAGO) is a private, non-profit association dedicated to promoting the needs of the rental housing industry. AAGO, an association of apartment communities, owners, managers, developers and suppliers, supports the apartment industry and those who serve it by tackling government affairs and regulations, providing workshops and seminars, and hosting trade shows and fundraisers.
---
What happens when associations switch to Novi?