Case Study: How AOBA Stays Connected To Its Members During the Pandemic
Date posted
September 30, 2020
Case Study: How AOBA Stayed Connected To Its Members During the Pandemic
The heartbeat of an association is its members, and in the midst of a global pandemic, providing more member value and better communications channels became essential for the Apartment and Office Building Association of Metropolitan Washington (AOBA).
Until recently, AOBA relied on member communication via email, website, and a bimonthly newsletter. Social media was employed but didn't foster much engagement among members or the association. AOBA needed a way to not only push info to their membership in a timely way but also the functionality to allow those members to speak to one another and back to the AOBA team easily and seamlessly. After doing some research, they determined the need to add an online community to better serve and advocate for their members.
The Sengii and Novi AMS Integration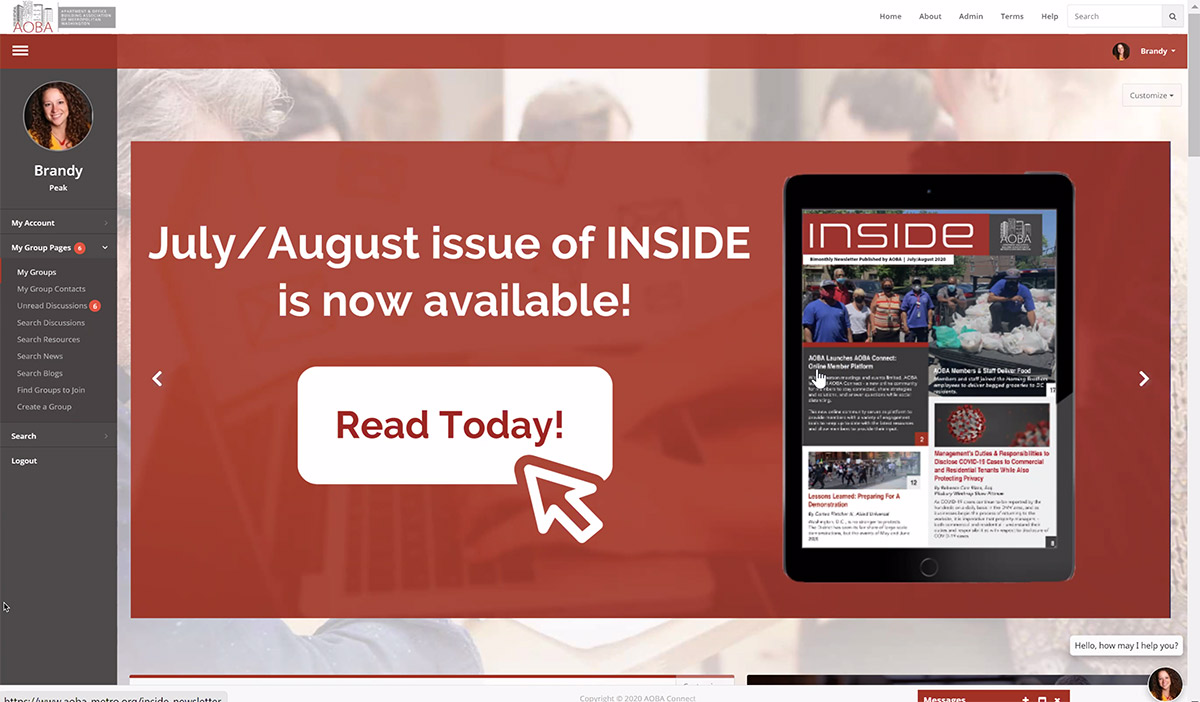 Though the process was already in motion to find a robust online community to meet AOBA's needs, the COVID-19 pandemic arguably accelerated the timeline for implementation. Brandy Peak, Director of Education and Events, had been assessing other online community options for a while. Her requirements were to find a solution that was an easy transition, could be quickly adopted by staff and its membership, fostered engagement and collaboration and offered privacy and security for sensitive questions, intellectual property, and personal information.
Brandy and her team decided to move forward with the community platform Sengii, because it had all the premium features they needed and met their budget requirements for the project. Standout features for their needs included the direct email reply feature, where members can simply engage with the Community from their email without having to log in.
Nicholas Bott, Founder and CEO of Sengii, met with Pete Zimek, Founder and CEO of Novi AMS to discuss integration options and a timeline for how the two pieces of software could work together for shared customers. Using Novi's existing API, Sengii was able to construct a comprehensive integration with Novi.
"The main reason we chose to use Sengii as our online community was because of the seamless integration that Novi AMS allowed through clean data and groups. We also loved the email functionality that Sengii provided. It is an easy way for people to stay connected, especially while social distancing. It's also is still staff driven and provides an opportunity for us to get answers more quickly than if we were to send out an email blast."
Brandy Peak, AOBA Director of Education and Events
Integration Features
In addition to the functional and robust integration between Novi AMS and Sengii that helped set AOBA up for success, Novi's Groups functionality and tools to ensure clean data are two key features that allowed this online community to truly function and shine out of the box.
Brandy said that one of the most important and helpful aspects of Novi AMS was the ability to ensure clean data. This meant tools at their disposal to avoid issues like duplicate member records. Using tools like QuickBooks Analyzer tool, AOBA was able to make sure their data was clean and organized before they began syncing their member data with Sengii.
A key feature with the integration is the ability to seamlessly sync your Novi Groups to Sengii. Having this capability allows the right targeted segments to communicate at the right time without additional manual processes to assign members to the correct groups. This also perpetuates the integrity of your groups for communication purposes, for example Special Interest Groups (SIGS) and Committees.
Another beneficial feature is Single Sign-On, with Novi, which means their members have one set of credentials to log in to both systems. and the ability to reduce friction via the direct email reply feature. These features can be considered integral from the end-user standpoint for ease of adoption. Brandy indicated member feedback was extremely positive. Rather than sign into a portal each time a member wanted to use or participate in the community, questions and responses could be easily accomplished via direct email replies. With the Single Sign-On feature, Novi AMS users can use the same login and password they created in Novi to login to Sengii.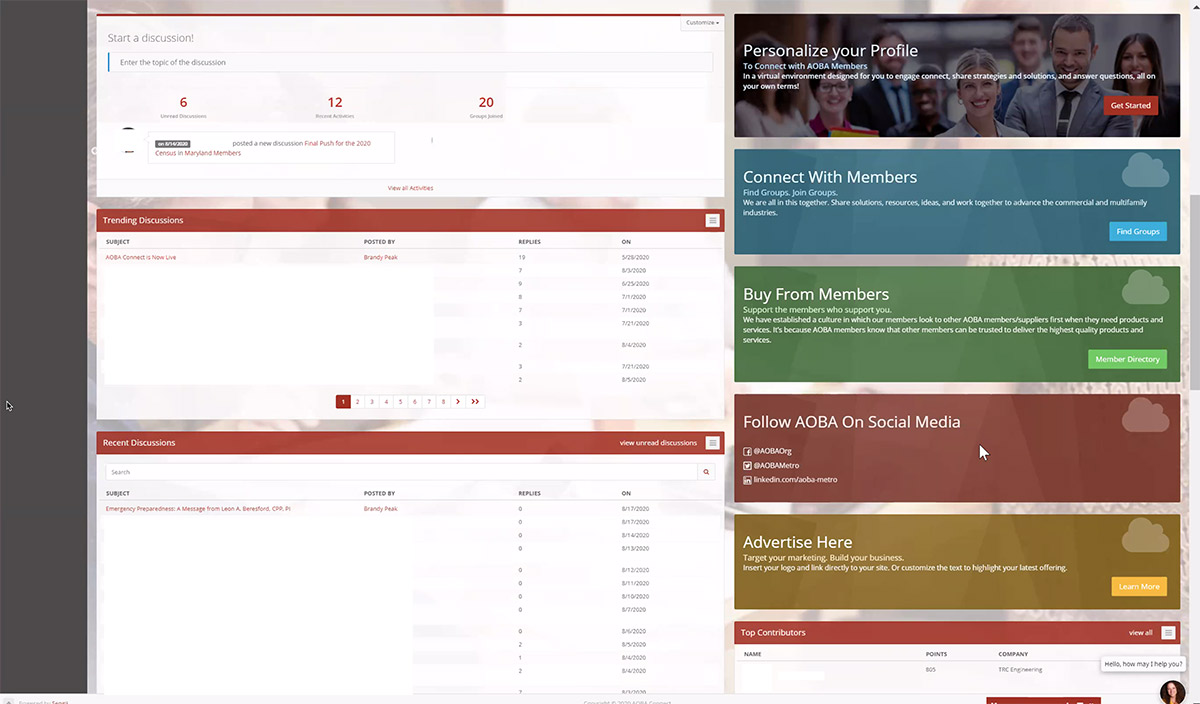 Is it time to modernize your digital infrastructure?
Perhaps Novi AMS and our best-in-class solution partners can help?
Start Your Own Online Community
In under two months, the AOBA Connect online community has had over 30,000 logged email views. Impressively, 90% of members have engaged with the new online community and over 200 new discussions have been posted with an average reply rate of 72%. Brandy mentioned that membership adoption and use of the online community has been fantastic, proving the need and benefit to their membership. Important conversations and communication are happening in real-time. Staff is better able to support and inform AOBA membership and stakeholders and peers are able to support and inform one another through low friction communication channels.
Your association can benefit from an online community as well. Explore our powerful integrations, benefit from clean data, and put your Novi AMS Groups functionality to work to continue to connect membership and staff in exciting and useful ways.
Brandy Peak is the Director of Education and Events of the Apartment and Office Building Association of Metropolitan Washington. AOBA represents the interests of the commercial and multifamily property management industry in the Washington, D.C. region. AOBA is the local affiliate of BOMA International and the National Apartment Association.
---
What happens when associations switch to Novi?